Revolabs Executive Elite™ 4 & 8 Channel Systems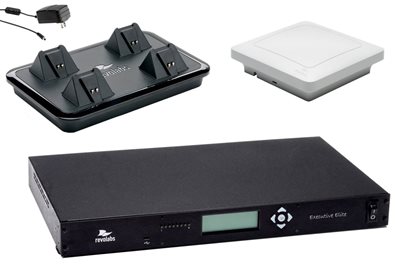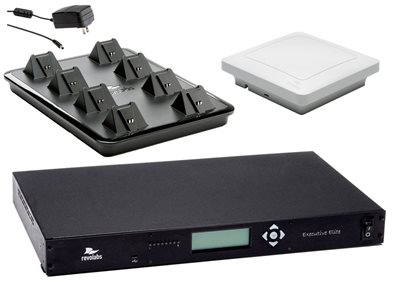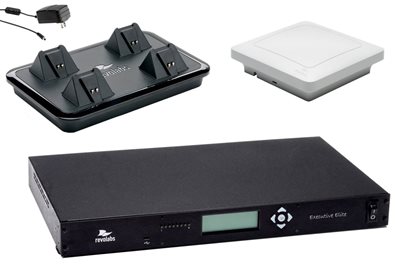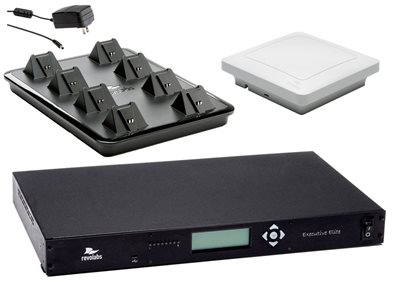 Revolabs Executive Elite™ 4 & 8 Channel Systems
Boardroom-ready wireless microphones for best audio quality and highest densities
Revolabs Executive Elite™ 4- and 8-channel wireless microphone systems are the latest products in the Revolabs family of boardroom and conference room audio solutions. They are architected to support deployments requiring increased numbers of microphones, provide enhanced integration with room control systems, leverage a distributed architecture for straightforward, trouble-free installations, and facilitate remote management capabilities. Finally, the Executive Elite™ products feature the superior audio quality required for exceptional audio and video conferencing.
Utilizing a distributed architecture, Executive Elite™ separates the remote antenna receiver unit from the Executive Elite™ base digital signal-processing (DSP) unit. The remote antenna receiver and base DSP units are connected via a standard CAT5e or CAT6 cable supporting Power over Ethernet (PoE) and enabling simplified distributed or in-room installations. Whether ceiling or wall mounted, the remote antenna receiver unit can be placed in the room where the wireless microphones are located despite the location of the receiver base DSP unit. Revolabs Executive Elite™ systems support up to four or eight microphones. Revolabs synchronization technology enables receivers in relative proximity to one another to synchronize, thus allowing deployments of multiple Revolabs Executive Elite™ receivers to optimize the available audio channels. By adjusting audio settings, users can introduce 44 or more microphones in one area in the US, South America and Japan, and up to 76 or more microphones in Europe, Africa, Asia and Australia. The distributed architecture serves to further support deployments requiring significant numbers of microphones for audio and unified communication applications.
The Executive Elite™ receiver pairs exclusively with the full suite of Revolabs Executive Elite™ wired & wireless microphones and adapters. The suite includes omni directional, directional, gooseneck (6-inch and 12-inch variations), and wearable microphones as well as XLR and TA4 (mini XLR) adapters. Microphones and adapters can be mixed and matched to suit the user's deployment requirements. The Revolabs Executive Elite™ microphones introduce new and improved audio management capabilities enabling significantly enhanced audio pickup, improved signal-to-noise ratio, and expanded digital signal communication over the wireless link. Combined with Revolabs "Designed for Speech" technology, the Executive Elite™ microphones provide the highest quality audio for any communication application.
Best of all, the Executive Elite™ microphones are extremely easy to use. Participants simply remove the microphone from the charger, un-mute the microphone, and begin speaking. Whether in a boardroom, collaboration room, classroom, lecture hall, house of worship, broadcast application, or other enterprise environment, Revolabs Executive Elite™ allows for easy, "untangled" audio via a flexible wireless solution adaptable to any of today's complex communication requirements.
For increased flexibility, the Executive Elite™ Cross-Over Adapter allows a tabletop microphone to be charged at all times, providing a wired option for your wireless microphones. The adapter comes with options for permanent placement of the microphone, or moveable microphones.
Revolabs Executive Elite™ offers both local and remote system management. The base DSP unit's display provides administrators with information on microphone status, audio and radio signal strength, and system performance. The Web-based interface also allows both installers and system administrators to manage the system by connecting directly to the base DSP. The enhanced integration capabilities supporting third party room control systems enables management of the audio behavior in the room from a single console.
Looking for protection on your Executive Elite™ system? revoCARE ELITE™ includes 3 years of service coverage.
NOTE: For the best audio performance in any environment or setting, it is recommended to have at least one microphone for every two participants. Executive Elite™ microphones are available in wired and wireless types to support a range of room configurations.
Contact Curago Technologies today to design the perfect Revolabs Wireless Microphones Ireland System for your boardroom or event space.